GF with Coesia Group at Pack Expo 2018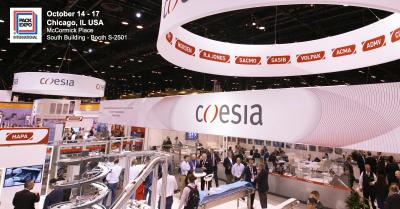 GF, market trade setter in the inspection field, confirms its leading position in the inspection field thanks to the launch of new A&V NG and Bag Inspection machines.
The unique, compact, and modular A&V NG machine has been developed to process ampoules, vials, cartridges, and syringes filled with injectable products, ALL-IN-ONE solution.
New high-speed Bag Inspection machine, developed to process soft bags, offers the ideal solution to ensure parenteral products are essentially free of foreign particles.
Meanwhile, GF enlarges its wide range of filling lines with the latest ophthalmic and ISBM Line projects and continues to improve its liquid filling systems for vials, ampoules, cartridges, and syringes.
GF distinctive elements are precision, quality, reliability, and rapid response in order to efficiently fulfill any customer's need. Our machines and lines for primary packaging and inspection solutions, are focused on innovation, productivity, and flexibility.
Each GF customer and each application may have specific demands and implications that need to be addressed with customized solutions. The continuous research for new technologies and innovation has allowed GF to be highly responsive to specific requirements and to the industry challenges for unique packaging solutions.
Where to find us
Visit us at McCormick Place, South Building, Booth 2501